Phase 10 - Completed
Launched July 21, 2022
Project Summary
[Update: Site launched July 21, 2022]
[Update June 9, 2022: Sitemap completed. IT started CSP and evaluating custom Pods table. -SQ]
UBCO Parking site as first ADMFIN site to migrate to Admin Suite from CLF 7 Basic. Kickoff completed with Jeff Joyce on Feb 8, 2022 to review current website challenges, competitive analysis, roles and responsibilities, etc.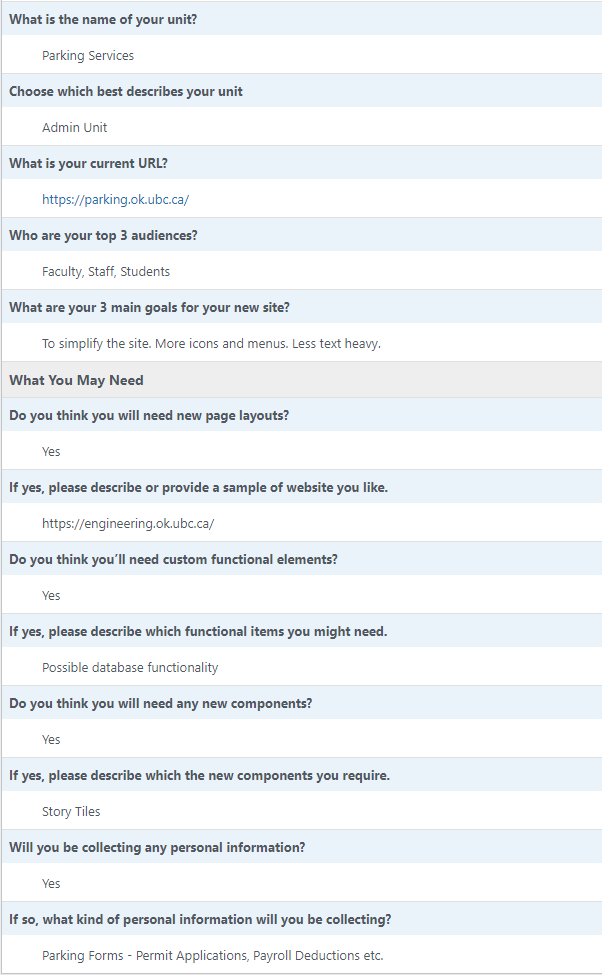 Touch Level: Light
Current Platform: WordPress (Okanagan)
Current URL: http://parking.ok.ubc.ca/
---
Project Window
Early-Feb 2022 - Late-Jul 2022 July 21, 2022
---
Ownership
Owner Group: ADMFIN
Site Owner: Unavailable
---
Media (screenshots, mockups, etc.)
No media uploaded...
---
Ticket Number: INC2836205
Project ID: 5013
---