Requested by: Meghan Reid
Status: Completed
Change to something that already exists?
: Yes
Requires a new CMS Component?
: No
Requires New Functionality?
: No
Estimated Completion Date:
Completed - Mid Feb 2020
Description
Original submission
—
"Remove thumbnails on the post pages where there is no image available. Expand the content to full width so that it is left aligned. Currently, there is a blank space to the left of the image.
https://ikbsas-intranet.ok.ubc.ca/category/notifications/deans-office/
https://ikbsas-intranet.ok.ubc.ca/category/notifications/campus/
A potential solution is, where there is no featured image, we will expand the title and excerpt to be full-width and avoid the featured image slot white space."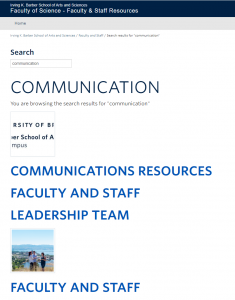 —
[Update: Likely requires template overrides for CLF basic archive loop – eg: add if statement to add .span12 if featured image empty. Similar to the News Page template. -SQ]
[Update 2: Basic proof of concept has been started in dev site. -JS]
[Update 3: More testing needed. Updated date to Q1 2020 -SQ]
[Update 4: JS pulled into live production Feb 14 2020. SQ updated completion date.]
---
Ticket Number: 192147.01
---
Media (Screenshots, etc.)